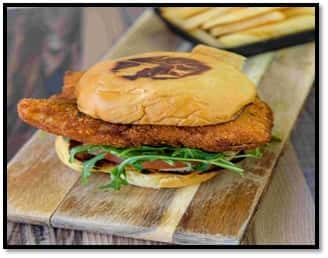 Explore your Breakfast Game with Love's Kitchen: Creative Morning Meal Ideas
Explore your Breakfast Game with Love's Kitchen: Creative Morning Meal Ideas
Dear foodies, good morning! We have the perfect spot for you if you're sick of the same old breakfast routine and want something genuinely unusual to start your day. Love's Kitchen is a secret treasure tucked away in the center of New York's Kew Gardens. We are here to take your taste buds on an unforgettable culinary excursion since we think breakfast should be exciting.
Our breakfast menu offers a delectable selection of meals that will arouse your senses and leave you wanting more. It is anything but conventional. We have something for everyone, whether you appreciate seafood, savory, rich flavors, or the flavorful zing of international cuisine. Let's explore some of our delectable breakfast selections that are sure to improve your daily meal.
1) Breakfast Burger - The Ultimate Morning Indulgence
Take a bite out of our Breakfast Burger to get your day off to a great start. This delicious dish combines a well-cooked, juicy Black Angus beef burger with an egg cooked to your preferences. A delicious contrast is provided by the creamy avocado and the satisfying crunch of the crispy bacon. To take things to the next level, choose the hot pepper jack cheese if you're feeling very daring. For a unique breakfast experience, finish off your dish with either a fresh side salad or crispy fries.
2) Full Latin Breakfast For Two - A Flavor Fiesta
Our Full Latin Breakfast For Two will transport your taste buds to the southernmost part of the world. This abundant spread consists of grilled tomatoes, longaniza sausage, and crispy bacon. You'll also enjoy French toast, salty tortilla chips, and a generous portion of beans. But that's not all. Choose your favorite side, whether it's crisp hash browns, golden fries, or a light side salad, and enjoy this delectable meal with a special someone for an amazing breakfast.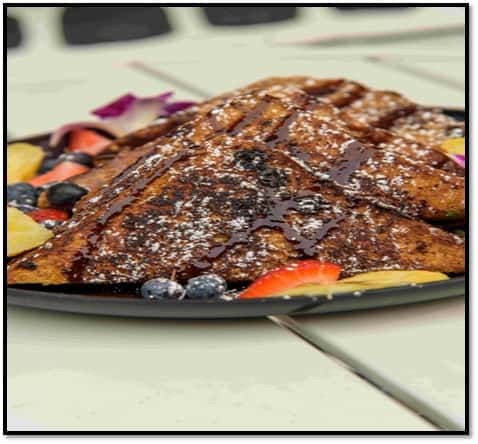 3) Nutella French Toast - A Sweet Morning Treat
Our Nutella French Toast is a dessert lover's dream come true. Enjoy golden French toast slices that have been packed with luscious strawberries, banana slices, and Nutella. A sumptuous dessert-like morning delight is created by artfully drizzling chocolate sauce over this delicious delicacy and dusting it with powdered sugar. It's the ideal way to get your day off to a sweet start.
4) Goldie Lox Omelette - A Taste of Luxury
Our Goldie Lox Omelette is the ideal choice if you're in the mood for something opulent. The rich flavors of smoked salmon, chives, and cream cheese are combined in this beautiful dish to create a harmonious combination of flavor and texture. To complete your meal, pick between a side of home fries or a cool pint of fruit salad. Breakfast suited for a king or queen.
5) Avocado Toast - A Classic with a Twist
Enjoy the flavorful fusion of toasted sourdough bread, eggs cooked to your preference, creamy mashed avocado, crumbled feta cheese, and bacon bits. Pick between a crisp side salad or crispy fries to round out your delectable meal. Your taste senses will be humming after eating this traditional breakfast with a twist.
Therefore, we have you covered whether you're craving a seafood extravagance, a savory pleasure, or a diverse brunch encounter. Our breakfast menu is created to please your interest in food and liven up your mornings.
When you can start your day with remarkable flavors at Love's Kitchen, don't settle for the usual. Visit us in Kew Gardens to learn more about our creative breakfast menu options that will have you desiring breakfast all day. Come and experience the magic of our morning meals today because your taste buds deserve the love we put into every dish.