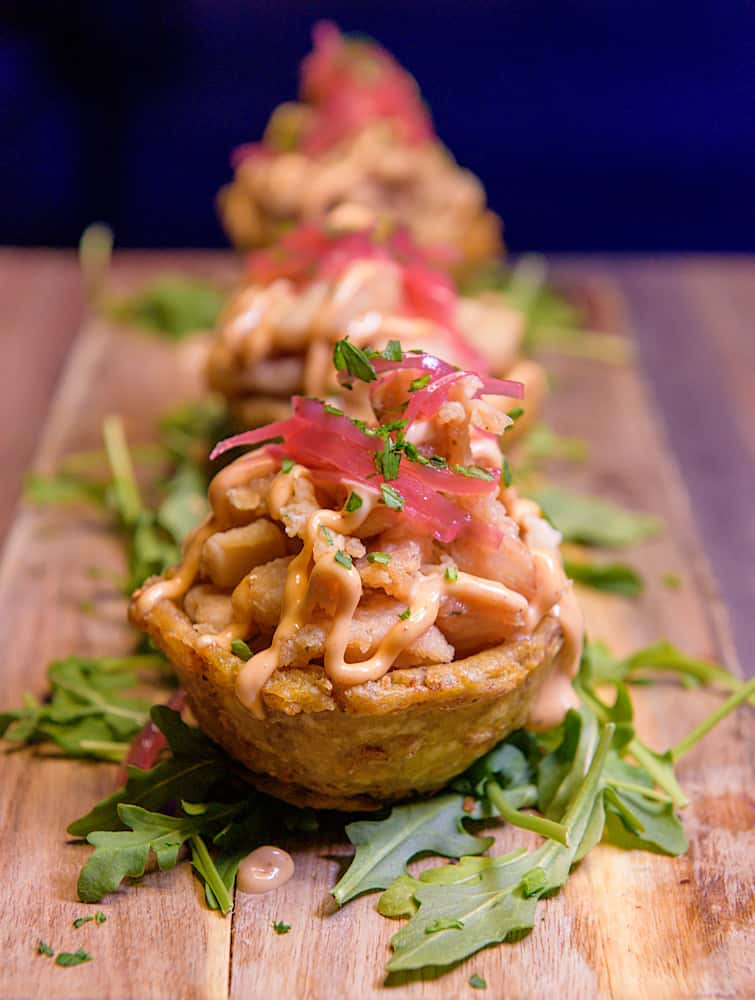 Your must try tostones rellenos
Love's Kitchen NYC: Calling All Foodie Lovers to Savor Tostones Rellenos de Chicharron!
Attention all foodie lovers in Queens, NY! Prepare to embark on a culinary journey like no other as Love's Kitchen NYC presents an irresistible dish that will tantalize your taste buds Tostones Rellenos de Chicharron! Indulge in the goodness of stuffed plantain cups filled with your choice of Chicharron de Pollo or Steak, topped with spicy Chipotle Aioli, tangy pickled red onions, and fresh micro greens. This true culinary delight promises to be a feast for the senses. We extend a warm invitation to all food enthusiasts to experience the delectable Tostones Rellenos de Chicharron at Love's Kitchen NYC,
Love's Kitchen NYC: A Foodie Lover's Haven in Queens, NY
At Love's Kitchen NYC, we are passionate about creating dishes that delight food enthusiasts and ignite their taste buds. Our Tostones Rellenos de Chicharron is a testament to our commitment to culinary excellence and unforgettable dining experiences.
Introducing Tostones Rellenos de Chicharron: A Fusion of Flavors
Tostone de Chicharron is a celebration of Latin flavors and textures. The plantain cups, made from green plantains expertly fried to perfection, serve as the perfect vessel for the mouthwatering filling. Choose between tender Chicharron de Pollo or savory Steak to elevate your culinary experience. The spicy Chipotle Aioli adds a kick of heat that enhances the flavors, while the tangy pickled red onions add a burst of acidity that balances the richness of the filling. Finally, fresh micro-greens complete the ensemble with a touch of vibrant freshness. Every bite is an explosion of flavors that will leave you craving for more.
The Tempting Choice: Chicharron de Pollo or Steak
At Love's Kitchen NYC, we understand that choices are essential for an exceptional dining experience. Our Tostones Rellenos de Chicharron offers the tempting option of Chicharron de Pollo succulent chicken marinated and fried to perfection, or Steak tender slices of savory goodness. Whichever you choose, rest assured that each option promises a delightful culinary adventure.
Convenient Dining Options
We know that convenience matters, and Love's Kitchen NYC is committed to providing you with the best dining experience. Whether you want to enjoy our Tostones Rellenos de Chicharron in the comfort of your home through our takeout and delivery services or relish the inviting ambiance of our restaurant with a dine-in experience, the choice is yours. Planning a special event or celebration? Love's Kitchen NYC's catering services will elevate your gatherings with our delectable and flavorful offerings.
All foodie lovers and culinary adventurers! Love's Kitchen NYC invites you to savor the divine flavors of Tostones Rellenos de Chicharron. Whether you're indulging in the tender Chicharron de Pollo or savory Steak, each bite promises to be a fusion of Latin flavors that will transport you to a world of culinary delight. So, come join us at Love's Kitchen NYC in Kew Gardens, Queens, and experience the true culinary artistry of Tostones Rellenos de Chicharron. Prepare to embark on a flavor filled journey, where every moment is a celebration of taste, texture, and unforgettable dining experiences. We can't wait to welcome you and share our passion for delicious food at Love's Kitchen NY